Go back to news
Chinese Stories Art Exhibition October 1-31
Posted on: Oct 2, 2018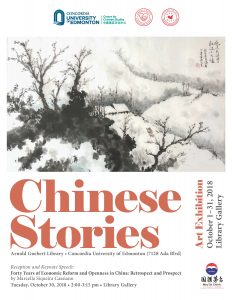 The year 2018 marks 40 years of reform and development in China.  To celebrate the 40th anniversary of the policy that initiated China's economic reform and openness to the world, as well as to cheer for the friendship between Canada and China, the Centre for Chinese Studies at CUE, Edmonton Chinese Unity Association and Canada-China Friendship Society of Edmonton proudly present the Chinese Stories Art Exhibition.
Exhibition Time: October 1 –31, 2018
Exhibition location : Arnold Guebert Library — 1st & 2nd floor
The committee of the exhibition received 49 pieces of artwork in total from China and Canada.  41 pieces are selected on exhibition, among which 11 pieces come from China and 30 pieces come Canada.  You are cordially invited to visit the CUE Library with your colleagues, friends and family to learn about Chinese history, culture and society through Chinese calligraphy and paintings.
For more information of the art works and artists, please feel free to contact the Director for Centre for Chinese Studies Dr. Xinxin Fang at 780-378-8437 or xinxin.fang@concordia.ab.ca.