Go back to news
Chinese Bridge On-Line Winter Camp for Canadian Students
Posted on: Nov 15, 2021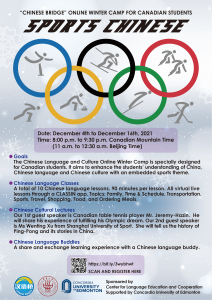 The Centre for Chinese Studies at Concordia University of Edmonton is excited to announce that registration for the Chinese Bridge On-Line Winter Camp for Canadian Students is now open!
The Chinese Language and Culture Online Winter Camp is specially designed for Canadian students. It aims to enhance the students' understanding of China, Chinese language, and Chinese culture with an embedded sports theme. This Winter Camp is sponsored by the Center for Language Education and Cooperation (CLEC) and in collaboration with CUE's partner university in Shanghai, China — Donghua University. All instructors and language buddies are from Donghua University, China. This Winter Camp is free of charge and open to all communities, including K to 12 students, University students, faculty members, staff, and community learners.   
Date: December 4th to December 16th, 2021
Time: 8:00 p.m. to 9:30 p.m.  Mountain Time
Chinese Language Classes:
A total of 10 Chinese language lessons. 90 minutes per lesson. All virtual live lessons through a CLASSIN app.
Topics: Family, Time & Schedule, Transportation, Sports, Travel, Shopping, Food, and Ordering Meals.
Chinese Cultural Lectures:
Our first guest speaker is Canadian table tennis player Mr. Jeremy-Hazin.  He will share his experience of fulfilling his Olympic dream. Our second guest speaker is Ms. Wenting Xu from Shanghai University of Sport.  She will tell us the history of Ping-Pong and its stories in China.
Chinese Language Buddies:
A share and exchange learning experience with a Chinese language buddy.
REGISTER HERE: https://bit.ly/3wybhwt
For more information please contact us at extension@concordia.ab.ca or 780-378-8437.