Go back to news
Children's mental health research at the heart of new MOU signed with Brazilian university
Posted on: Jul 19, 2018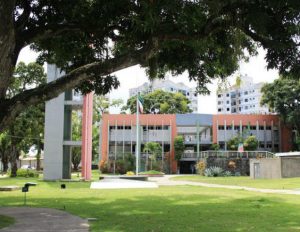 A new memorandum of understanding which focuses on research and academic collaboration in the area of children's mental health, and early and middle childhood development has been signed between CUE and BAHIANA-School of Medicine and Public Health in Salvador, Bahia, Brazil.
"The mental health of children today is facing stark challenges across all societies, globally," says Dr. Farzad Zare-Bawani, Associate Professor of Psychology at CUE. "We are hoping that our joint, creative effort can further the cause of children's mental health from North to South across our vast continents."
The MoU opens up new opportunities for creating enhanced and combined efforts between the faculties and students of both universities, including hosting students in research groups, internships and engagement with practices connected with community health.
CUE offers very popular 3- and 4-year psychology degrees, as well as a graduate certificate and diploma in psychological assessment. "Concordia University of Edmonton is proud with this new cooperation agreement signed in Brazil, which is one of our strategic priority focuses in the world," says Dr. Manfred Zeuch, Vice-President, External Affairs and International Relations at CUE. "The research cooperation started by the professors involved will only expand and both institutions and countries will benefit from the academic and social interaction in the fields of public health and psychology. We are also very happy to have a partner in beautiful Salvador, Bahia!"
For further information, contact:
Dr. Manfred Zeuch
Vice-President, External Affairs & International Relations
Email: manfred.zeuch@concordia.ab.ca
About Concordia University of Edmonton
CUE is a boutique university, small enough that every student is essential yet large enough for a global outlook. In and out of our classrooms and lecture halls, we translate what we learn into extraordinary hands-on experiences. We live and work on a small campus, a river valley oasis, but Edmonton is our workshop. Our ultimate goal has not changed since 1921: to be more than students and professors, to create a community of active citizens, of good and honourable people.
Concordia University of Edmonton is proud of its engagement with the international community. With robust cooperative relationships with universities all over the world, study abroad, student exchange, academic and research opportunities abound for its students and faculty.
About BAHIANA-School of Medicine and Public Health
BAHIANA-School of Medicine and Public Health, founded in 1953, is committed to providing quality higher education and health care services to the population it serves. Through this commitment, critical, ethical and highly trained professionals graduate, whether from a technical-scientific or human viewpoint, ready to meet the challenges and demanrds of contemporary society.
The School offers several undergraduate, graduate and extension courses within their outpatient health care teaching, providing health services to the general population, and consolidating its reputation over the years, as a reference in higher education in the Northern/Northeastern region of Brazil. Drawing on 496 teachers, around 15,000 health professionals have graduated, including 265 masters and doctorate degrees and more than 1,500 specialists. Thusly, BAHIANA has established itself as a premiere institution focused on the area of health.