Go back to news
Centre for Applied Artificial Intelligence Welcomes Mandira Das!
Posted on: Sep 24, 2021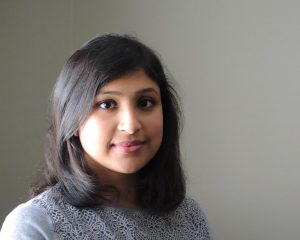 The Centre for Applied Artificial Intelligence is pleased to welcome Mandira Das, Business Development Specialist, effective September 13, 2021! Mandira is a registered Professional Engineer with extensive experience in innovation management and technology commercialization gained from working at two Canadian Universities. In her most recent position at the University of Alberta, she worked as the point of contact for researchers and student entrepreneurs, built and maintained relationships with them, conducted technology assessments, developed intellectual property strategies, supported grant applications and negotiated several commercial licensing deals with national and multinational companies resulting in an ongoing revenue stream for stakeholders.

Mandira obtained her B.Sc. degree in Electrical and Electronics Engineering from Bangladesh University of Engineering and Technology (BUET). She also holds a Master's degree in Electrical and Computer Engineering from the University of Victoria, Canada, where she collaborated in a multidisciplinary research group to design and build a plasmonic nano-sensor system for biological sensing.
Welcome to CUE, Mandira!