Go back to news
Celebrating 100 Years of Statistics Canada!
Posted on: Nov 21, 2018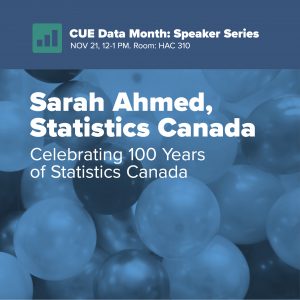 CUE's Data Month Speaker Series continues today!
Wednesday, November 21 marks 100 years of Statistics Canada! Listen to guest lecturer Sarah Ahmed, Consulting Analyst for Statistics Canada, in the celebration of this impressive centennial milestone.
Wednesday, November 21, 12 – 1 pm
Speaker: Sarah Ahmed, Statistics Canada
Celebrate 100 Years of Statistics Canada
Location: HAC 310