Go back to news
Celebrating with our Chinese Students from Beijing and CUE students
Posted on: Aug 30, 2017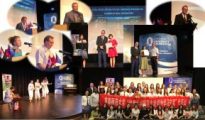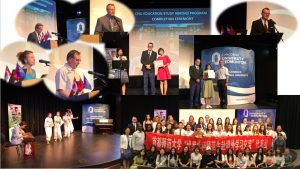 The Centre for Chinese Studies (CCS) proudly announces that the Chinese cohort students from Capital Normal University celebrated the completion of the CNU Education Study Abroad Program with CUE students, faculty and staff on Tuesday August 29. There were 36 CNU students and 25 CUE students who participated in the summer program by taking credited courses (PACT 240, ENG 101, EDPS 200) and cultural excursions.
Warm greetings and congratulations were given to the students by the President and Vice Chancellor Dr. Tim Loreman, VP International and Research Dr. Manfred Zeuch, Dean of Arts Dr. Neil Querengesser, and Dean of Education Dr. Edgar Schmidt. Ms. Erinn Jacula presented her comments on the students' performance on behalf of the instructors. Friends and host families of the students also attended the completion ceremony. The Chinese students also conducted several performances to celebrate the completion of the program. For a review of the program, please enjoy the video online:
Farewell Concordia! Beijing Welcomes You!
Thank you again supporting staff in Admissions, Alumni Relations, Aramark, Human Resources, International Office, Finance, Library, Plant Operations, Registration, Residence, Security, Students Life and Learning!
Thank you Faculty of Education, Faculty of Arts!
Centre for Chinese Studies 
Concordia University of Edmonton – Building Bridges