Go back to news
Celebrating MISAM Program's 10 Year Anniversary with a special InfoSec Seminar in February 2023
Posted on: Jan 20, 2023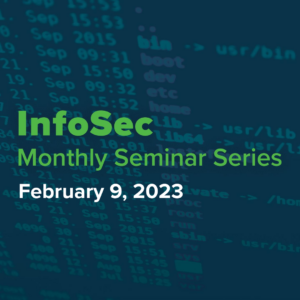 The Information Systems Security and Assurance Management (ISSAM) Department in Mihalcheon School of Management proudly invites you to the monthly InfoSec Seminar. The seminar series will be open to anyone who is interested in security research and technologies, not only to Concordia University of Edmonton (CUE) members.
Date: Thursday, February 9, 2023
Time: 12 noon – 1:00 pm MST (Edmonton, Alta. time)
Meeting Link: Google Meet
See You There!
From Conception to Delivery: The Journey to Publishing a Blockchain-based Manuscript
Dr. Aghili will discuss Blockchain technology's potentials and security challenges as a disruptive technology in the 2020s. Professor Aghili will also share his experiences and research supervisory procedures related to the publication of his most recent book thanks to the efforts of his research teams in 2021 and 2022 during this webinar presentation.
Presentation Outline:
My Personal Blockchain (BC) Learner Journey
What is Blockchain (BC) Technology?
Potential Use Cases and Security Challenges of BC
The 2021-2022 Collaborative BC Research Project: Why it was a success!
About the Speaker
Shaun Aghili, CMA(US), CISSP-ISSMP, CCSP, CISA, CIA, CRMA, CCSA, CFSA, CGAP,
CFE, CBE, CBSA, CBSP, CBPM
Dr. Shaun Aghili is a full professor of management and lead faculty in the Master of Information Systems Assurance Management (MISAM) program at Concordia University of Edmonton. MISAM is Canada's first and only graduate-level program in information systems auditing.
Professor Aghili holds a total of fifteen (15) professional designations. These include certifications as a management accountant, a financial services and government sector internal auditor and risk assurance specialist, a fraud examiner, an information systems auditor, and an information systems and cloud security professional. Dr. Aghili also holds several blockchain-related certifications such as: Certified Blockchain Expert, Certified Blockchain Solutions Architect, Certified Blockchain Security Professional, and Certified Blockchain Project Manager.
Shaun is an award-winning author whose publication portfolio includes over 90 published articles, book chapters and conference proceedings in addition to two personal finance books, and two IT auditing book titles. His latest books are entitled Fraud Auditing Using CAATT: A Manual for Auditors and Forensic Accountants to Detect Organizational Fraud (2019), and The Auditor's Guide to Blockchain Technology: Architecture, use Cases, Security and Assurance (2022).
Contact
If you have any questions regarding this panel, please contact Shawn Thompson or Eslam G. AbdAllah, MISSM, Mihalcheon School of Management at shawn.thompson@concordia.ab.ca, eslam.abdallah@concordia.ab.ca