Go back to news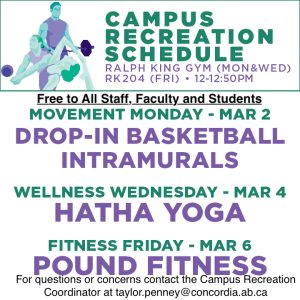 Join faculty, staff and students this week in the Ralph King building to try out the Fitness Classes being offered. All events are drop in and free of charge. During the second half of the semester the fitness classes have changed. We are now offering a 50 minute Pound Fitness Class and a 50 minute HIIT class. The descriptions of the classes are as follows:
Pound Fitness
–       This class will use rhythm-based techniques to combine cardio and weight training. Equipment resembling drumsticks, ripstix are used to keep the beat of the music while strengthening the arms, chest and shoulders. Pound fitness classes are unique because they are a high intensity class that use both interval and strengthening techniques. This 50 minute class will provide a whole body workout in a comfortable friendly, upbeat environment. Ripstix and mats will be provided, although if you prefer to use your own yoga mat you are welcome to bring it. All you need is runners, workout attire, a water bottle, and a signed waiver form.
HIIT
High Intensity Interval Training, commonly known as HIIT is a workout that focuses on increasing your heart rate while building strength. HIIT workout usually involve plyometrics and the use of body weight to build strength. All you will need to participate in this class is fitness attire, runners and a hard work ethic.
If you have any questions please contact the Campus Recreation Coordinator at Taylor.penney@concordia.ab.ca.