Go back to news
Bonjour! Join us for a French speaking moment with Coffee and Croissants
Posted on: Oct 16, 2017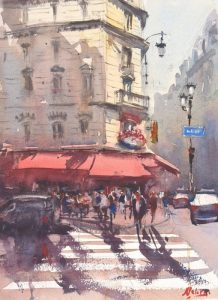 Bonjour! Une invitation:
Students, faculty and staff, who love French, would like to learn, practice French, are invited to our first CAFE TERRASSE event this year. It's an hour for speaking in French or listening and learning, with coffee and croissants. October 18, 1200-100 pm in Tegler Mezzanine.
An Initiative by the International Office and the Department of Modern Languages.
Venez à notre Café Terrasse.
Click: CafeTerrasse-October-2017
L'Université Concordia d'Edmonton – Bâtissant des Ponts
Painting by Nadera Benmansour – saatchiart.com