Go back to news
Author Talk with Allison Kydd
Posted on: Feb 14, 2018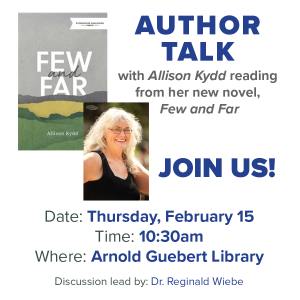 Concordia Library invites you, on behalf of Dr. Reginald Wiebe, for a thought-provoking talk with Canadian author Allison Kydd. Allison will be reading from her new novel Few and Far and a discussion afterwards will be facilitated by Dr. Wiebe.
"Allison Kydd strikes the perfect tone to convey the conflict between British upper-class consciousness and the reality of homestead life in the Canadian West. She portrays this period of history in vivid detail, but from a twenty-first century perspective that casts it in a slightly different light."- Shirley A. Serviss
All are welcomed and encouraged to attend!
Where: Concordia Library's gallery space (main floor)
When: Thursday, February 15th. 10:30 am – 11:30 am