Go back to news
Are you applying for External Research Funding?
Posted on: Jan 11, 2021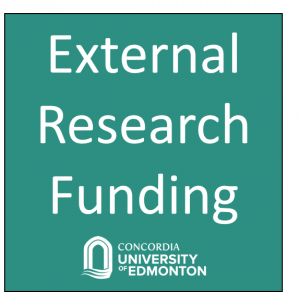 Any application submitted by a CUE member to an external funding source must be registered at ORS via an External Grant Institutional Signature Page. This requirement applies to research grants, as well as to fellowships for research purposes, but not to applications related to Professional Development or training.
The External Grant Institutional Signature Page provides important information at the time of application submission in order to facilitate disclosure to all relevant persons and ensure institutional awareness and approval of the proposed research. The Signature Page is also important to identify potential institutional processes or certifications that may be required (e.g. ethics) so that the applicant can plan accordingly. The Signature Page ensures all parties are aware of their responsibilities that any university resources affected by the project, including cash and in-kind commitments, research facilities, and workload appointments are managed effectively.
The following submissions require a Signature Page:
Grant applications to external funding agencies
Research Contracts and Scope of Work documents
Notice of Intent (NOI) or Letter of Intent (LOI) to external funding agencies when funding is expected during the preparatory phase of the application
Research fellowships
Applications
Applications forwarded for institutional signature should be in submission ready form or in the final draft form. Submitted applications will be retained and filed by the Office of Research Services. The External Grant Institutional Signature form must be prepared, signed by all parties, and submitted to ORS at least seven working days before the deadline set by the funding agency or sponsor. In particular, this is an essential requirement for all Tri-Council grants. No external applications, including SSHRC and NSERC, will be processed, and no CUE Research Resources will be dedicated to applications that have not fulfilled with this requirement in a timely manner. For registration, all applications must be presented in original, with the accompanying signature page in original, as well. After sign-off by ORS, the signature page will be returned to the applicant.
Applicant
The applicant is generally the Principal Investigator (PI) of the project and CUE is the lead institution. If the applicant is not the Principal Investigator and participating in a grant application where CUE is not the lead institution, a Signature Page is still required if the applicant will receive grant funding or if CUE is committing to provide a cash or in-kind contribution to the project. When participating in an application where CUE is not the lead institution, identify the Principal Investigator and lead institution in the appropriate field.
Instructions
All applications and proposals being submitted under the auspices of Concordia University of Edmonton must be reviewed and approved by the institution. The External Grant Institutional Signature Page is mandatory and should be completed PRIOR to submission to the sponsor.
A full version of the application, including the signature page, must be submitted in electronic form as a single PDF document to the Dean of the Faculty for signature. Once signed, the same package must be submitted to the ORS at least seven working days before the sponsor deadline, sent via email to research@concordia.ab.ca.
CUE may reject management of funds, or disallow a faculty member from holding funds, for grants obtained from external sources:
that were not registered at ORS in a timely manner;
for which a final application has not been submitted electronically as a single PDF document to ORS; or
not previously approved by the University via a signed External Grant Signature Page.