Go back to news
An Awesome Experience in Brazil
Posted on: May 29, 2017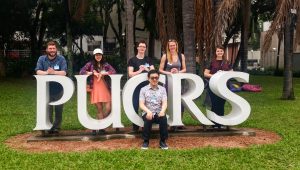 A group of Biology and Environmental Science students have successfully finished a study journey to Brazil. This international field endeavour, led by Dr. Xin Chen and assisted by Mr. Devin Hughes, is part of the course ENSC/BIO319. This study journey was warmly welcomed and assisted by the Pontifical Catholic University of Rio Grande do Sul (PUCRS) and the Federal University of Rio Grande (FURG).
The group enjoyed an invaluable experience of witnessing the incredible biodiversity and diverse ecosystems of Brazil, and an opportunity to enhance their global perspective of environmental issues. They were thrilled to see many amazing plants and animals in the natural habitats which are not found in North America, from the spectacular fern trees to the world's largest rodents – the capivara.
Each student conducted a field research in the preserved mountain forest and a lab experiment on marine animals. Their close interactions with professors and students at the host universities in Brazil will serve to increase the ties and collaborations of CUE with those Brazilian institutions.
Concordia University of Edmonton – Building Bridges