Go back to news
25th Annual Putnam County Spelling Bee Final Weekend
Posted on: Mar 15, 2019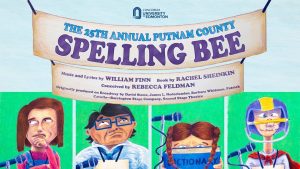 Join THEATRE AT CUE for the Winter musical: THE 25TH ANNUAL PUTNAM COUNTY SPELLING BEE (Music and Lyrics by William Finn Book by Rachel Sheinkin, Conceived by Rebecca Feldman, Additional Material by Jay Reiss, Originally Directed on Broadway by James Lapine, Originally produced on Broadway by David Stone, James L. Nederlander, Barbara Whitman, Patrick Catullo, Barrington Stage Company, Second Stage Theatre).
Guest theatre artist, BRENLEY CHARKOW directs this Tony Award-winning musical which runs March 8 – 17, 2019 in the HUEHN THEATRE.
An eclectic group of six mid-pubescents vie for the spelling championship of a lifetime. While candidly disclosing hilarious and touching stories from their home lives, the tweens spell their way through a series of words, hoping never to hear the soul-crushing, pout-inducing, life un-affirming "ding" of the bell. Six spellers enter; one speller leaves! At least the losers get a juice box. A high-stakes riotous ride, complete with audience participation.
The 25th Annual Putnam County Spelling Bee features CUE students Aidan Goodall, Darian King, Preston Gray, Joel Dinicola, Kathryn Lucyk, Annie Randall, Jaseena Elvin, Teagan Kamstra, and Riley Frazier. Music Direction by Kim Cousineau, Production Design by Josiah Hiemstra, Costumes by Betty Kolodziej, Stage Management by Kenya Bean and Dorean Isibor-Yusuf.
Friday, March 8 at 7:30
Saturday, March 9 at 7:30
Sunday, March 10 at 2:00
Friday, March 15 at 7:30
Saturday, March 16 at 2:00
Sunday, March 17 at 2:00
Tickets are available at the bookstore, online at Tix-on the Square, and at the door.
$20.00 Regular | $15.00 Students & Seniors.
More information: https://concordia.ab.ca/arts/departments/fine-arts/drama/drama-productions/