Go back to news
'11 Days of Giving' earns Thunder CCAA Community Service Award
Posted on: May 26, 2021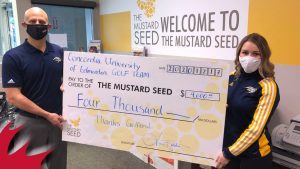 CORNWALL, ON – Late last year, during a difficult and challenging holiday season, the Concordia University of Edmonton (CUE) Department of Athletics & Recreation came together to give back to their community with '11 Days of Giving'.
The remarkable initiative has earned the CUE Thunder the Canadian Collegiate Athletic Association (CCAA) Community Service Award for 2021.
Each of the Concordia Thunder's 11 athletic teams, who compete in the Alberta Colleges Athletic Conference (ACAC), were asked to select an organization or a group in the community to support with a volunteer-driven initiative. The campaign ran from Nov. 15 to Dec. 20, with the goal of serving a community in need of care.
"The notion of community engagement, volunteering, and giving time to others around us is well ingrained into the culture of Thunder Athletics, often without formally requiring teams and student-athletes to engage in this – it is natural to them, to the sports community, and is part of the common thread of developing leaders within our department and our people through sport," said Joel Mrak, Athletics Director at CUE.
Due to COVID-19, times have been difficult on communities who are dealing with financial stresses and higher-than-normal unemployment rates. Many are also suffering physically and mentally from various life disruptions and restrictions over the past year due to this pandemic.
Further to those restrictions came the cancellation of the 2020-21 season in the ACAC, which impacted student-athletes, coaches and staff. While this was understandably disappointing, Thunder student-athletes came together and put forth some good into their community during the Christmas season, helping make a positive difference in the lives of those who need it most.
"It is so encouraging to see how CUE's '11 Days of Giving' project not only helped engage student-athletes during the pandemic, but also give back to their local community at a time when it was, and is, really needed," said Vince Amato, CCAA President.
While the initiative opened the door to building new community partnerships with organizations that Thunder Athletics has the ability to impact, the main goal was for the student-athletes at CUE to understand that they are more than just an athlete, but rather seen as important members of the community.
"With everything that has gone on in the world with COVID, our athletes took this pause in sport to spread some cheer to those that need it most," said Mrak. "It reflects the values of our department and showcases all of the great things that our athletes do outside of putting the jersey on to compete."
The '11 Days of Giving' initiatives included:
| | | |
| --- | --- | --- |
| Day | Charity | Team |
| 1. | |  Women's Volleyball |
| 2. | |  Men's Hockey |
| 3. | |  Curling |
| 4. | |  Men's Volleyball |
| 5. | |  Women's Soccer |
| 6. | |  Golf |
| 7. | |  Cross-Country Running & Indoor Track |
| 8. | |  Men's Basketball |
| 9. | |  Women's Basketball |
| 10. | |  Badminton |
| 11. | |  Men's Soccer |
This is CUE's first CCAA Community Service Award, which has been given out annually since 2000. ACAC institutions have captured four of the last five awards.
"Congratulations to CUE and all the student-athletes who took part in this project," said Amato.
(Story courtesy of the CCAA)