Go back to news
CUE professor to begin research collaboration on lung disease
Posted on: Oct 28, 2021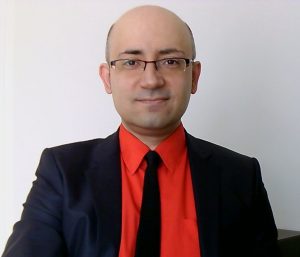 Dr. Makan Golizeh, an assistant professor at Concordia University of Edmonton, will soon begin working on a research project with colleagues across Canada to investigate interstitial lung disease (ILD) in systemic sclerosis (SSc) patients.
SSc is a rare autoimmune disease, and approximately half of SSc patients have ILD.
In this project, the research team will investigate the ability of certain proteins to predict the progression of SSc-ILD in patients.
"This is the first proteome-wide study of SSc-ILD," said Dr. Golizeh. "If successful, this study would once again demonstrate the exceptional capacity of proteomics analysis for biomarker discovery of life-threatening diseases."
The research project will be funded by Boehringer Ingelheim Canada and co-directed by Dr. Marie Hudson (principal investigator, Sir Mortimer B. Davis Jewish General Hospital), Dr. Sabrina Hoa (co-investigator), and Dr. Donald Vinh (co-investigator).
Patients enrolled in the study were identified by a pan-Canadian, multi-center research group, and samples were collected and stored at a laboratory in Calgary. Under Dr. Golizeh's supervision, proteomics analysis of the samples will be conducted by members of CUE's Department of Mathematical & Physical Sciences and by research team members in Montreal.
"I would like to thank CUE's Office of Research Services, Research Ethics Board, Finance Office, Dean of Science, and Vice-President of Academic & Provost for their support and cooperation," said Dr. Golizeh.
"Several CUE students will be trained on proteomics sample preparation, method development, and data analysis during this project. Our results can provide grounds for further research collaborations and development of a new, less invasive diagnostic method for SSc-ILD."