Go back to news
Using Hangout Meet
Posted on: Mar 18, 2020
With a growing number of employees working from home, IT Services wanted to remind you that it's simple to add Google Meet conferencing options to any of your calendar items with just a couple of clicks. To do so, simply follow the steps outlined below: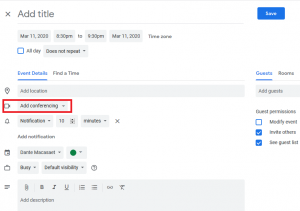 From your scheduled meeting, click on Add conferencing, and choose Hangout Meet, then Save the schedule.
Please do not use the telephone number provided in the Hangouts Meet setting, as this will incur you long distance charges, which will not be reimbursed by CUE.