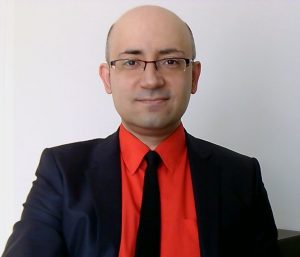 Makan Golizeh, PhD MBA
Assistant Professor, Analytical Chemistry
Phone: +1 780 378 8449
Office: AW026
Email: makan.golizeh@concordia.ab.ca
Education:
PhD, Bioanalytical Chemistry, University of Quebec at Montreal
MBA, Product Market Management, Linkoping University, Sweden
MSc, Organic Chemistry, KNT University of Technology, Iran
BSc, Pure Chemistry, Persian Gulf University, Iran
Postdoctoral:
Research Institute of McGill University Health Centre
Northeast Ohio Medical University
Research Interests:
Bioanalytical mass spectrometry
Metals in chemical biology and medicine
Computational biochemistry and bioinformatics
Selected Publications:
Plant-derived virus-like particle vaccines drive cross-presentation of influenza A hemagglutinin peptides by human monocyte-derived macrophages. Makarkov AI, Golizeh M, Ruiz-Lancheros E, Gopal AA, Costas-Cancelas IN, Chierzi S, Pillet S, Charland N, Landry N, Rouiller I, Wiseman PW, Ndao M, Ward BJ. NPJ Vaccines. 2019 May 15;4:17.
Increased serotransferrin and ceruloplasmin turnover in diet-controlled patients with type 2 diabetes. Golizeh M, Lee K, Ilchenko S, Ösme A, Bena J, Sadygov RG, Kashyap SR, Kasumov T. Free Radical Biology & Medicine. 2017 Dec;113:461-469.
Identification of acetaminophen adducts of rat liver microsomal proteins using 2D-LC-MS/MS. Golizeh M, LeBlanc A, Sleno L. Chemical Research in Toxicology. 2015 Nov 16;28(11):2142-50.
Click on PubMed to see my current list of publications.