Open Educational Resources
Open Access Textbook Adoption Pilot Program
To reduce student textbook expenses, Concordia has received $10,000 grant from Alberta Open Educational Resources to support the adoption of open access textbooks in highly enrolled courses.
$2,000 Professional Learning Accounts are still available to instructors who show evidence of adopting an open access textbook in a highly enrolled Fall or Winter 2016-17 course.
Already, students have been saved an estimated $29,750 by instructors who are participating in the OATA Pilot Program.
If you are teaching a highly enrolled class and would like to participate in this pilot program, please contact Dan Mirau.
This pilot program is funded by the Alberta Open Educational Resources (ABOER) Initiative.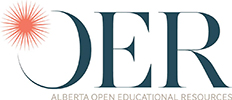 Open Educational Resources & Open Access Textbooks
"Open educational resources (OERs) are a broad and diverse category. This may make the prospect of adopting or creating an OER daunting – leaving many instructors unsure of where they should start. This toolkit will provide you with some considerations before you start using OERs in your classroom, in addition to strategies, practices, and web resources"
Alberta Open Educational Resources Starter Kit
OER and Open Access Textbook Repositories
If you have copyright questions or concerns about using OERs, please contact Lynette Toews-Neufeldt