Barbados
University of the West Indies (UWI), Cave Hill, Barbados
Exchange Partner – Multiple courses offered in English in all disciplines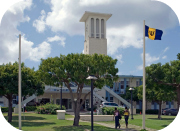 The University of the West Indies is a public university located in 18 English-speaking countries including the island of Barbados. UWI Cave Hill receives students from all over the world to experience the exciting Caribbean culture. The Cave Hill Campus overlooks the island's capital and principal commercial centre and offers a beautiful view of the Caribbean Sea. UWI offers courses in biology, computer science, arts, economy, education, foreign languages, history, literature, management, psychology, theology and political science.
Dominican Republic
Instituto Tecnologico de Santo Domingo (INTEC)
Exchange partner – courses offered in Spanish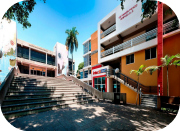 Instituto Tecnológico de Santo Domingo (INTEC), was founded on June 15, 1972 in Santo Domingo, Dominican Republic, and is considered the best institute of technology in the country. Based on the quarterly system, INTEC offers academic programs in Engineering, Business, Administration, the Humanities, Social Sciences, and Medicine.