Go back to news
Future CUE – Campus Master Plan
Posted on: Jan 20, 2020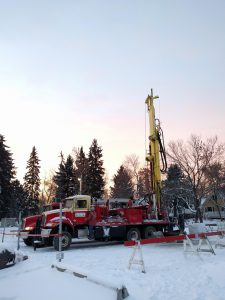 Further to the communication of January 13 about CUE's future and the campus master plan (see below), the investigative drilling that was scheduled to start on January 14 and 15 was postponed to due inclement weather. The drilling has begun today, January 20.
---
January 13, 2020
As our campus community is already aware following our town hall meeting in October 2019, we are looking ahead to a future where learning and research takes place on an increasingly sustainable and beautiful urban campus. Najfeldt Architect and Manasc Isaac Architects were engaged to co-create a long-term plan for buildings and campus amenities, and to rezone our lands accordingly.
Thurber Engineering has been contracted to investigate soil conditions, and the location and condition of the coal mines below our campus. Over the next few weeks, you will see large drilling rigs on the campus as they begin their investigations:
January 14 and 15, 2020 – Drilling nine 12 m deep test holes, and
January 20 to 23, 2020 – Coring two 58 m holes.
With results of this testing in hand, we will then be able to create an effective campus masterplan, which will also include the land identified for Concordia's growth in the Exhibition Lands plan.
We apologize to everyone affected for any potential inconvenience that this work may cause, and thank you for your patience.
In February 2020, we would like to invite you to join us for design charettes to imagine the future campus. At that time, we will have a roadmap to share with you. Dates will be set shortly and announced on our website at concordia.ab.ca/FutureCUE. Please keep an eye on this page, so that you can participate. We will also post updates on our social media, so please follow or like  @CUEdmonton on Facebook, Twitter and/or Instagram.
If you have any questions, please email Bob Thompson, Director of Plant Operations, at bob.thompson@concordia.ab.ca.
A letter with this information has also been shared with the neighbourhood and neighbouring community leagues.