Jasmina Odor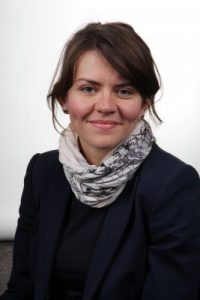 Sessional Instructor
Office: L358
Email: jasmina.odor@concordia.ab.ca
Education and Interests:
BA (Hon) Comparative Literature/Creative Writing (2003)
MA Comparative Literature (University of Alberta) (2006)
Jasmina Odor is a writer and the author of the short story collection You Can't Stay Here (Thistledown Press, 2017). Her interests include English-language contemporary fiction, contemporary Croatian fiction, translation practices, and creative writing teaching; in her own fiction, she explores migration, identity, and gender. Her stories and reviews have been widely published in Canadian journals and anthologies, including The New Quarterly, The Malahat Review, Prism International, Alberta Views, and the Journey Prize Anthology. She currently writes a book column for Eighteen Bridges magazine. Jasmina Odor teaches fiction writing, as well as essay writing and introductory English.
Recent publications:
You Can't Stay Here. Thistledown Press, Fall 2017.
"Skin Like Almonds." The Fiddlehead, Winter 2017.
"Safe." A Second Coming: Canadian Migration Fiction. Ed. Don Mulcahy. Guernica Editions, 2016.
"The Time of the Apricots." The New Quarterly, Spring 2016.
"Postcard from the Adriatic." Prism International, Fall 2014.
Recent awards:
Exporting Alberta, Canadian Authors Association Winner for You Can't Stay Here (2018)
Shortlisted for the CBC Short Story Prize 2017 for "Everyone Has Come" (2017)
Finalist for The Malahat Review's Open Season Contest for "Bless the Day" (2016)
Silver, Fiction Category, Alberta Magazine Awards, for "His" (2014)
Winner of the Howard O'Hagan Award for Short Story, for "His" (2014)