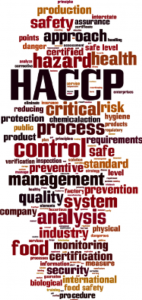 Environmental Health Officers are food safety experts and are an important part of ensuring safe food for Canadians. Food Safety in Canada continues to evolve with changes in policy and legislation both at the provincial and federal level. This 5 day course is designed specifically for Environmental Health Officers (EHOs) providing outcomes that will allow EHOs to:
understand and describe various components of traditional "codex" HACCP (Hazard Analysis Critical Control Points) systems.
understand the application of Good Manufacturing Practices as it applies within a fully documented HACCP program.
understand and apply concepts of HACCP plan development.
In this course, the Food Safety Enhancement Program (FSEP) of the Canadian Food Inspection Agency (CFIA) will be used including standard requirements and associated documentation.
The 5 day version of the Advanced HACCP Training course for EHOs is CIPHI Council of Professional Experience (CoPE) approved for 35 Professional Development Hours. (CoPE approval # CPC-2017-004)
Course Learning Objectives
Day 1 Learning Objectives:
Understand various components of traditional HACCP Systems
Describe benefits and challenges of HACCP
Learn and apply skills in developing documentation for pre-requisite programs
 Day 2 Learning Objectives:
Understand HACCP plan development
Apply the Critical Control Point Decision Tree
Develop components of HACCP plans through case studies
Day 3 Learning Objectives:
HACCP plans Continued
Understand key concepts of auditing
Describe differences and similarities between Audits and Inspections
Apply auditing principles
Day 4 Learning Objectives:
Understand what third party HACCP standards cover
Understand Food Safety Enhancement Program (FSEP) approval process
Understand how the Global Food Safety Initiative (GFSI) is influencing food safety nationally and globally
Discuss modified HACCP systems
 Day 5 Learning Objectives:
Discuss modifying HACCP for Small and Medium Size Establishments
Review US FDA, Safer Food Better Business, and Food Control modified HACCP systems
Discuss EHO / Environmental Public Health Role in HACCP
Note: This course can be customized to fit your training needs and objectives.
Course Investment:
The fee for the 5 day course is $3,750 +GST per participant.
A compressed 4 day version of this course is available for $3,000 +GST per participant.
A minimum of 7 participants are required for this course.
Course fee includes training materials, a light breakfast, lunch and refreshments each day, and on campus parking.
What Participants are saying about the Advanced HACCP course:
"Well-designed course, great group discussions and materials used, very knowledgeable instructor, course increased overall knowledge on HACCP and practical use in complex food safety program."
 "Very informative-practical group discussions and experience sharing, enticed with instructor knowledge."
 "Very well done course, instructor is very knowledgeable and professional."
For more information, contact:
Isha Katyal
Manager, CIAR
Tel: 780-479-9395
Email: ciar@concordia.ab.ca