Dr. Reginald Wiebe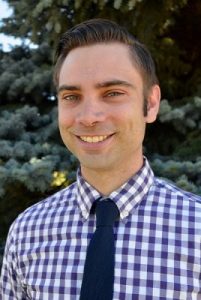 Assistant Professor of English
Office: L278
Phone: N/A
Email: reginald.wiebe@concordia.ab.ca
Education and Interests:
Reginald Wiebe specializes in Canadian literature, with a particular focus on historical fiction. His dissertation was on ghosts in historical fiction and how such spectral figures can enable writers to unsettle incomplete or unjust narratives of the past while preserving the past as not entirely knowable. His other areas of research include Westerns, and the differences between Canadian and American cowboys; postcolonial and transatlantic literature; and comics. He has delivered papers from an ongoing collaborative project on cancer and Marvel superheroes, including on the partnership between Marvel and the Susan G. Komen Foundation for breast cancer research, the liminal role of Deadpool as an embodiment of remission, and the martyrdom of Thor's breast cancer. Reginald received the Faculty of Arts Graduate Teaching Award from the University of Alberta in 2012.
Degrees:
BA (English) – Canadian Mennonite University – 2002
BA Honours (English) – University of Winnipeg – 2005
MA (English) – University of Manitoba – 2008
PhD (English) – University of Alberta – 2015
Representative Papers and Publications:
Conference Papers:
"Introducing the Disturbing Pink Superhero!" ACCUTE Congress 2013, Victoria.
"Marvel's Deadpool: the Anti-Hero for a Violent Neo-Liberal Project." ACCUTE Congress 2015, Ottawa.
"'I'm superhuman': Powering the Female Body in C.L. Moore's 'No Woman Born' and Marvel's Thor." ACCUTE Congress 2016, Calgary.
Book Reviews:
"Words in Motion: Toward a Global Lexicon by Carol Gluck and Anna Lowenhaupt Tsing." Inquire: A Journal of Comparative Literature 2.1 (Winter 2012). Web