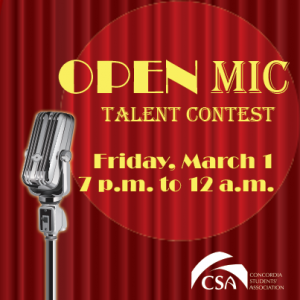 It's your time to shine! The Concordia Students' Association (CSA) is hosting an Open Mic Talent Contest.
For one night only in the Tegler Student Centre, come down for some pub food, live DJ and showcase your talent for your chance to win some PRIZES:
$100 with a Concordia hoddie
$50 with a Concordia t-shirt
$25 with a Concordia t-shirt
Join the event and invite your friends on Concordia's Facebook page.
For more information, contact the CSA internal John Anderson at 780-709-5296 or csavpinternal@student.concordia.ab.ca.